Procedure of the Hospitalization
If there is hospitalization communication from a hospital, come to the hospital to reserved date and time and please check-in at a reception desk.
Next is necessary for a procedure of the hospitalization
Application of the hospitalization
Sickroom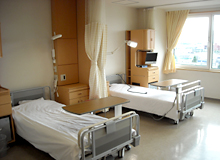 General Ward
In the room, four room is a standard
There is a restroom near all rooms entrance
The washstand is set low to be easy to use for a person in a wheel chair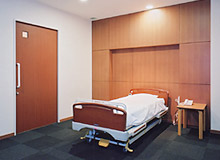 Special room (one room)
Available for 5,400yen per day
prefabricated bath, washstand, toilet, 20 type TV, refrigerator, kitchen sink, chair for visitors, telephone
Area: approximately 30m², the floor finishes it with a tile carpet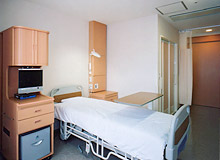 Private room (one room)
Available for 3,240yen per day
prefabricated shower, washstand, toilet, chair for visitors

Area: approximately 15m²
Please ask at a nurses' station for a special room or private room.
Meal
All the meals are prepared at the hospital
The serving time: breakfast 8:00hs, at lunch 12:00hs, at dinner 18:00hs.
The intake of a meal may be prohibited or have to wait by the need of treatment, please obey instructions in that case.
Because a diet (heart disease food, diabetes food, kidney disease food, liver disease food and etc.) is prepared depending on a symptom, Please do not consume the thing except the hospital diet
We prepare a selective menu for a patient of the staple food, rice porridge food in the hospital. If an application form arrives, please choose a prefer menu and submit it by the due date
Since a therapeutic diet is modified for each diseases, the registered dietician conducts dietary counseling individually.
Bedclothes
Futon or the sheet will be prepared at a hospital
The hospital gown (pajama and etc.) is rentable for a fee 76 yen a day. From an aspect of the hygiene preservation, please use the clothes of hospital
Companion
A nurse takes care of you during hospitalization
Visitor
The visiting hour is as follows
Weekday: 15:00 ~ 20:00
Saturday, Sunday and holiday: 13:00 ~ 20:00
*A person who comes to visit a patient should receive a visiting card at the front desk at the 1st floor and drop by the nurses' station in the ward before visiting the patient.
*Please refrain from visiting in many or with young children
*Please refrain from eating or drinking in the sickroom