COVID-19 PCR Test For Traveling Abroad

Our hospital provides the health certificate for the COVID-19 PCR test for those who plan to travel abroad and need to obtain a negative result.
Please check the latest requirements for certification (e.g., test contents, document formats, and valid period of certification) on the consulate website of the country that you are planning to visit. It is your responsibility to check the latest certification requirements before you apply for a test appointment.
※Some countries require a QR code on the PCR certificate. Please be sure to mention this in the "Other Request" column when filling out your test appointment form. We will print a QR code onto your certificate upon your request.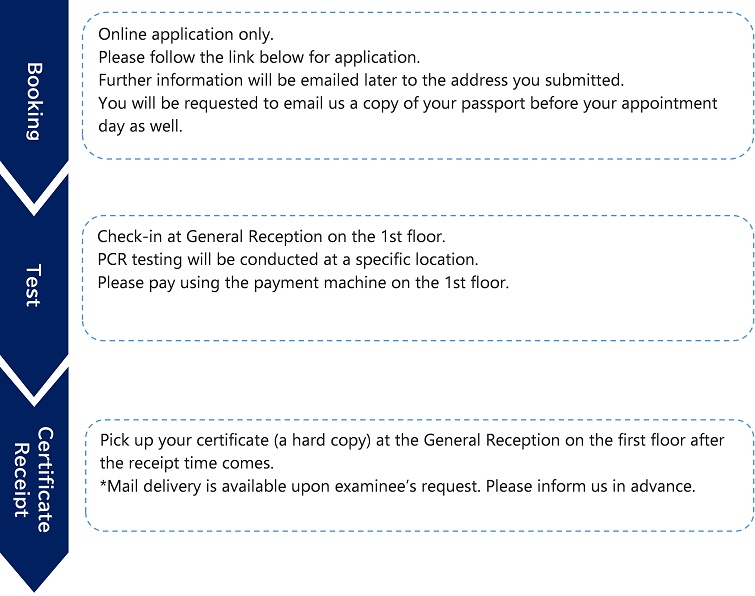 Eligibility
Those who are in need of a PCR test for traveling abroad and do not have COVID-19-like symptoms such as a fever, cough, or loss of taste.
Test Method
Real time RT-PCR (nasopharyngeal swab)
Real time RT-PCR (saliva)※
Rapid antigen test (nasopharyngeal swab)
※Please avoid eating, drinking, or brushing your teeth 30 minutes before your test. Also, you cannot undergo this saliva test if there is any bleeding or cuts in your mouth.
Test Time

(Appointment only, excluding Sun. and National Holidays)

Certificate Receipt

(at the reception)

PCR test
Antigen test
Mon. ~ Fri.

11:00 AM ~ 12:00 PM

In some cases, we may ask you to change your test time.※1

5:00 PM, same day

About 1 hour

after the samples taken.

1:00 PM ~ 4:00 PM

(The last PCR test will be given at 3:40 PM)

12:00 PM, next day

(1:00 PM, next day for the tests given on Friday afternoons)

Sat.
8:30 AM ~ 9:00 AM

1:00 PM, same day

15 years old or under※2

(Pediatrics)

Mon. ~ Fri.
9:00~11:30

5:00 PM, same day

Sat.
8:30~9:00

1:00 PM, same day
※1 For those who apply for a test between 11:00 AM and 12:00 PM on weekdays: we might ask you for an afternoon appointment if your destination country allows a next-day test result.
※2 This excludes children who are enrolled in high school as of their testing dates.
Fees (tax included, public health insurance not applicable)
Basic set

¥25,000

PCR test (nasopharyngeal swab), one test result certificate in English

Basic set (saliva)

PCR test (saliva), one test result certificate in English

China set (PCR test)

PCR test (nasopharyngeal swab), one China-designated certificate

Rapid antigen test

¥4,500

Rapid antigen test (nasopharyngeal swab), one test result certificate
For Travelers To China
Destination Countries/Areas that accepted our PCR negative certificates (at random order)
China, Cambodia, Taiwan, Thailand, Vietnam, Singapore, Malaysia, Indonesia, Philippines, Nepal, India,
Afghanistan, Continental United States, Hawaii, Canada, Portugal, Germany, France, Spain, Switzerland,
United Kingdom, Egypt, U.A.E., Zambia, Senegal, Burkina Faso, Cameroon, Rwanda, Liberia, Russia, Ecuador,
Pakistan, Netherlands, Cyprus, Hong Kong, Mongolia, Australia, Maldives, Norway, Bangladesh, Kenya,
Ukraine, Hungary, South Korea, Ivory Coast, Italy, Myanmar, Malta, New Zealand, Ghana, Israel,
Afganistan, Iraq, Oman, Brazil, Mexico, Argentina, Iran, Austria, etc.
Certificate Samples
*A sample of China-designated certificate is available on the website of Consulate-General of the People's Republic of China in Sapporo whose link is attached in a section above, "For travelers to China".
Contact Us
Comprehensive Medical Check-Up
Our hospital provides one-day and two-day medical check-up courses, equipped with state-of-the-art medical devices and staffed by well-trained healthcare specialists. Even when you are confident in your vitality or do not have any particular symptoms, there is still a good chance that you have some kind of disease. We recommend you an annual medical check-up if you are 40 years old or over.
If You Are Considering to Take Medical Check-Up
We recommend you contact us more than a month before you wish to take a medical check-up.
Please check the following "Information and Notes for Medical Check-Up Appointments" and "Medical Check-Up Course Menu" for more details. Please use the inquiry form if any questions or you wish to make an appointment
*Please prepare an interpreter per examinee for him/herself. (Please let us know in advance if you wish to use a device interpretation other than a machine translation device.)
*We request that a medical checkup appointment be confirmed upon full payment in advance.
Our Medical Check-Up Features
State-of-the art medical devices are in operation
Relaxing atmosphere
| | |
| --- | --- |
| CT Scan | PET-CT Scan |
| | |
| --- | --- |
| MRI | Mammography |
| | |
| --- | --- |
| Endoscopy Room | |
Required Time for Medical Check-Up
Course
Required Length of Time
(1) One-Day A
Approx. 8 hrs
(2) One-Day B
Approx. 8 hrs
(3) One-Day A with PET-CT
Day 1: Approx. 8 hrs
Day 2: Approx. 4 hrs (your check-in time will be advised from us.)
(4) One-Day B with PET-CT
Day 1: Approx. 8 hrs
Day 2: Approx. 4 hrs (your check-in time will be advised from us.)
(5) PET-CT
Approx. 4 hrs (To know start time, please contact us.)
*The required length of time may vary.
How to Make an Appointment
Please read and check "Information and Notes on Scheduling an Appointment for Medical Check-Up"
Specific Health Checkups (TokuToku Kenshin)
Our hospital provides interpretation assistance to residents in Sapporo who wish to have a medical checkup. Please take this opportunity for your health maintenance.
Outline
Eligibility:
Sapporo residents enrolled in the Japanese National Health Insurance System (Kokumin Kenko Hoken) who are aged 40 or over.
Fees:
As per the fee schedule set by Sapporo City
Procedures for Taking a Checkup:
Please contact us by phone or email for an appointment after you receive your Specific Health Checkup Card from Sapporo City. The Checkup Card is good for only once before it expires.
What to Bring with You on the Appointment Day:
Residence card (Zairyu card), National health insurance card (Kokumin Kenko Hokensho), Specific health checkup card, and Checkup report of the previous year (if any)
Checkup Results:
A report will be issued in Japanese. Translation is available for additional charge.
For More Information